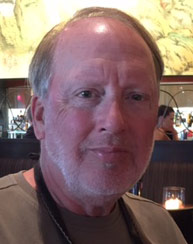 On Feb 26th 1976, Ted and his wife Nancy both were Born Again at Jesus People Church in Minneapolis, MN. After 4 years of Discipleship and Training, Ted was ordained to the ministry at Jesus People Church in Jan of 1980. Since that time Ted has served as a Crusade Director, Pastor, Mission Director and Elder for multiple Ministries and Churches.
In 2011 the Lord again called Ted back into full time World Evangelism. Since then Ted has partnered with Evangelist Tom Elie, who leads
www.OasisWorldMinistries.org
.
Today, Ted serves the Lord as an "Equipping Evangelist." In this role Ted is called to (Eph 4:11-13) equip the Saints to do the work of the Ministry, specifically in personal evangelism. In this capacity, we train Pastors, Evangelists, Teachers, Key leaders and Christians all over the world with the Five Star Evangelism Seminar and the One Minute Witness format.
In January 2012 we were invited to come to Haiti to train every Pastor in the country. In June 2012 we partnered with Pastor Robert Bilda, President of the Evangelical Christians of Haiti and his team of National Pastors. In just 13 months we trained in all 11 districts? of Haiti and trained 3500 pastors who then in turn trained everyone in their Church with the One Minute Witness. During this time, the Lord showed us that we could begin training whole countries and not just cities. With this, we set a goal to train in 50 Countries by 2020 and to see 40 million people come to Christ.
Today, we are well on our way to that number. We are currently training in 32 countries and as a result, thousands of people worldwide, are coming to Christ.
Job one for every believer is being a witness (Isaiah 33:11). We are all witnesses and 2 Timothy 2:2 tells us to train others to do the same. The fruit of people coming to know Jesus by training the One Minute Witness format is dynamic and extremely fruitful.
With every Christian being trained, confident, competent and active in sharing their own personal Testimony of the Goodness of God in the marketplace daily, it has greatly multiplied the work of evangelism in the earth.